Elite medical coding support

We are absolutely committed to consistently providing our clients with nothing less than the finest medical record coding support available.

First and foremost, HCCS is a remote coding company that deals with all chart types from clients spread across the spectrum of healthcare providers. We provide fully compliant coding, with industry leading turnaround time and accuracy, while ensuring optimal reimbursement. Aside from offering coding related consulting services, we do not deviate from our one simple mission: provide the best coding around.
HCCS's coding services are designed to ensure:
Our clients receive coding that complies with all CMS and regional coding guidelines.
We meet or exceed our clients' coding accuracy and turnaround time requirements.
All legitimate revenue is being realized from all payers.
Patient charts are processed through the coding and billing cycle as quickly as possible.
How do we code?
Our coding is provided remotely and how our clients wish us to access their charts varies on a case-by-case basis, so we are completely flexible in this regard. If our client has an EHR, we can remotely access medical records through a VPN or CITRIX environment. If not, we can utilize our Document Management System, ChartStream™, which is a next generation, fully scalable, multi-redundant, web based chart transportation and management system.
As an added bonus, many of our clients use ChartStream™ to facilitate EHR implementation since ChartStream™ provides our clients with electronic images of their charts which can be archived, imported/exported, etc.
Initial review process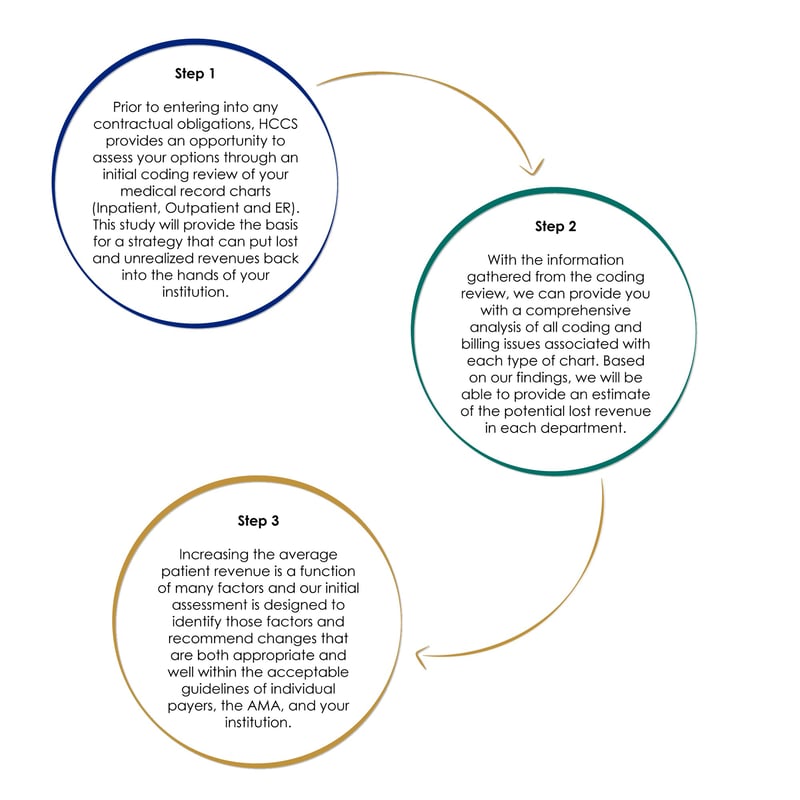 Our coding team
Average experience level of over 15 years

Our team is required to have at minimum one of following AHIMA or AAPC certifications: RHIA, RHIT, CCS, or CPC.
With our focus on staff education and growth, we strongly encourage our coders who possess only the CPC to successfully obtain their CCS as well. We pay for certification exams and annual dues. Additionally, we require that minimum CEs are taken by every coder to preserve their credentials. We provide many CE courses, training opportunities, and supplemental resources throughout the year to maintain each coders area of expertise.
Coding quality assurance
Coding quality is our first priority and it's not sacrificed for any reason

While 100% coding accuracy is frequently achieved, we recognize that this accuracy rate is not always attainable. HCCS's standard for overall coding accuracy is 95%, with 98% accuracy expected for reimbursement coding. Our contracted turnaround time is 24 hours, though we beat that time on a regular basis.
To assist us in our goal of providing a greater than 95% coding accuracy, and to prove to our clients that we are achieving this goal, we perform continuous audits of between 3% and 5% of all coding produced by all our coders working on each account.
What do our monthly audits include?
The number and types of charts coded
The number and types of charts audited
The account number of each chart audited
The audit results detailing both overall coding and reimbursement coding accuracy
The ability to examine the auditor's report on any or all of the audited charts